Paul & Heather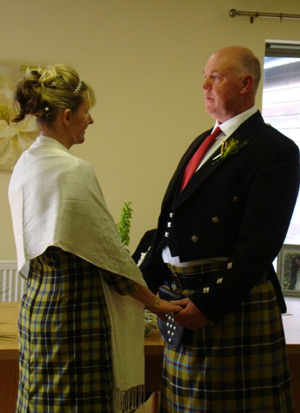 Yes we are really a genuine Cornish couple born and bred in Cornwall. Here we are in our Cornish tartan, which is reflected in the colours of this website. Both of us can trace our Cornish ancestry back many generations.
This does not mean that Paul is any better at wood turning than others from other parts of the world necessarily of course. But he is very good at his craft and is the genuine article. He has many generations of history before him and works the wood lovingly.

Paul makes the following
Bowls in various woods
Platters
Vases
Clocks
Candlesticks & Ring stands
Cheese knives
Novelty figures & Tea Light holders
In fact anything that can be made in turned wood. Some wood carving also done on a commission basis
Paul and Heather
Hope you enjoy this site and feel you can buy some of our unique items. Paul & Heather work as a team. Paul makes the beautiful Wood Turned items and Heather helps to promote them.